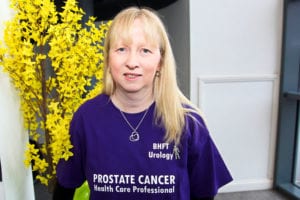 Sarah Minns is a Macmillan Urology Advanced Nurse Practitioner. She has been working as a nurse for nearly four decades with her primary focus on patient well-being and the continual development of innovative strategies and solutions.
Her work won her an Excellence Award in 2010 and Burton Albion Community Trust Award in 2016. She was a finalist in the 2017 Nursing Times Awards and the Royal College of Nursing Awards.
Her career started as a surgical nurse and she rapidly progressed to become Sister of the surgical ward. Over the past thirteen years, she turned her focus to urology as an advanced nurse practitioner. She is one of a handful of nurses across the country performing independent prostate biopsies, erectile dysfunction clinics and lower urinary tract dysfunction clinic. She strives to keep up to date with current thinking by continues dialogue and discussions through attending workshops, national meetings and conferences for the benefit of her patients.
Over the past 18 months, Sarah has worked on the Inspire Health: Fighting Prostate Cancer campaign to help raise awareness of prostate cancer in the community. This was through the work with Burton Albion Football Club where men were encouraged to have prostate cancer screenings in a community-friendly environment. An addition to the screenings has been the creation of a Support Group where sufferers and their families can get support and share their stories.
Sarah is a driven and dedicated nurse who has always put patients at the centre of her work. The work in the community has received a positive response from the public and has featured widely in the local and regional press as well as a feature on prime-time BBC's One Show.
Sarah has a BSc (Hons) in Nursing from South Bank University and an MSc from University of Wolverhampton. She did her Diploma in Nursing at South Bank University and Advanced Diploma in urology at Leeds Metropolitan University. In addition, she has completed various training in management, leadership and clinical practice.